The city of Rotterdam has gone one step further by retrieving debris from the city's rivers and port to create a prototype floating park, which is now open to residents and visitors. The Recycled Park is a 140 square metre installation that aims to illustrate that recycled plastic from the open waters can be a valuable and useful material.
This floating structure comprises a series of hexagonal blocks made entirely from recycled plastic waste that, at some point, represents a positive environment impact. It is led by the Recycled Island foundation (RIF), a young organisation that pursue finding an active approach to the worldwide plastic pollution in open waters. It aims at the retrieval of debris in rivers and river mouths, sustainable re-use of plastics, organising clean ups, creating awareness and education.
The park is beneficial for the river's ecosystem, as it offers a habitat for micro and macro fauna, including snails, flatworms, beetles and fish. Its proposal is to retrieve plastic waste from the New Meuse -a distributary of the Rhine River- just before it reaches the North Sea because it takes the pollution from the inland to the sea. 
'The realisation of the building blocks in recycled plastics is an important step towards a litter free river' – Ramon Knoester, from The Recylced Island Foundation.
In order to collect debris, the foundation developed three passive litter traps which were tested, monitored and optimised for a trail period of 1,5 year. The litter traps are able to capture plastics by using the existing stream of the river, and keep them trapped even when the direction of the stream changes. 
The Recycled Park project has been possible thanks to the support of BRG (Existing Rotterdam Territory), Citylab 010, Rijkswaterstaat (Ministry of Infrastructure and Water Management), Cargill, Van Der Vorm Real Estate, Audi Environmental Foundation and all the partners that physically contributed to the realisation.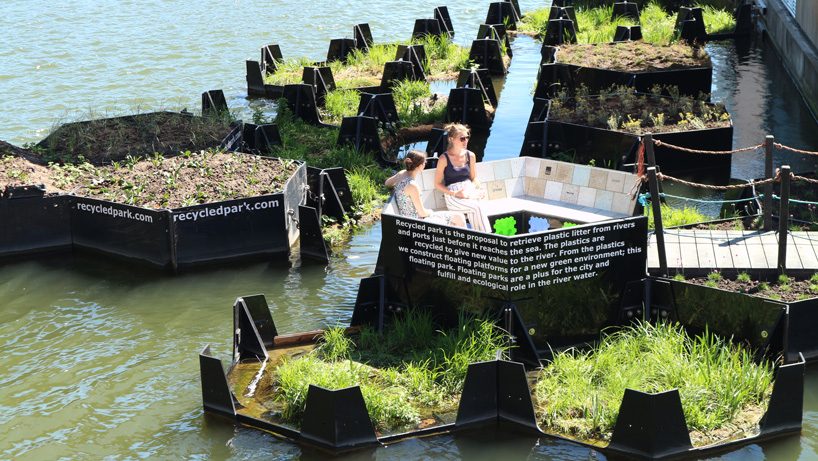 + all images courtesy of the recycled island foundation